15. Use of Information, Data Collection & Reporting
15.1. Right to Information – Members of the Public
Members of the public are entitled to make application for access to information under the provisions of the Right to Information Act 2009.
15.2. Confidentiality of IAPro / BlueTeam Records
All members involved in the management and resolution of Abacus matters must maintain appropriate confidentiality.  The Need to Know Principle applies to these procedures; that is, information should only be available to those members or state service employees (SSEs) who need to access that information to do their work.  The disclosure of information must be no wider than is required for the efficient conduct of business.  It is the responsibility of all members and SSEs to adhere to this principle.  As with other Tasmania Police systems, use of IAPro/BlueTeam is auditable.  A usage log is attached to every IAPro record and every access is recorded.
15.3. HP Records Manager
HP Records Manager is not to be used for Abacus matters.  The only exceptions are:
the initial recording of complaints received at Records Information Services
Determination Notices are to be uploaded to the subject officer's HR folder on HP Records Manager by the authoriser. If the authoriser does not have access rights then the Determination Notice is to be loaded to folder AD1569 which is a 'holding bin' and is not available for general access.  They are then transferred to the subject officer's human resources folder by Records Information Services.
15.4. Impact on Courses, Transfer, Promotion and Medals
Abacus matters that result in a Determination Notice are considered when a member applies for a course, transfer or promotion.  They are also considered in relation to the eligibility of the member to wear or be awarded medals.  Further explanation is provided at Broader Consequences of Determination Notice.
A Continuing Professional Development (CPD) alone has no impact on course, transfer or promotion applications.  It also has no impact on the eligibility of the member to wear or be awarded medals.  Further explanation is at CPD Has No Broader Consequences.
15.5. Information Provided to Potential Employers
Tasmania Police receives applications for information relating to individual members who have applied for employment with other organisations, most commonly other Australian police organisations.  The information is provided in accordance with the relevant jurisdiction's legislation and may include a member's conduct history.
15.6. Using Data for Accountability and Continuous Improvement
It is good practice, and in fact mandatory where the aim is to establish, restore or enhance public confidence, to disclose the number of complaints received, the nature of the complaints and their consequences, including numbers of officers that have been disciplined and criminally prosecuted.  Too often, police try to keep these figures away from the media, under the erroneous impression that this might negatively affect their image.  In fact, the opposite is true: displaying transparency with regard to all areas including failures and problems and acknowledging mistakes shows that police are concerned about their legitimacy and thus enhances public trust.[46]
Data collection and analysis provides important information for the ongoing improvement of Tasmania Police as an organisation and is in the interests of the broader community.
15.6.1. Data Collection and Reporting
The IAPro system is a database.  Non-identifying complaints data is collated from IAPro by Professional Standards for the purpose of statistical reporting in internal and external documents.  It is essential for transparency and accountability that Tasmania Police provides publicly available information, in addition to reports produced by the Integrity Commission.  Methods of data collection will occur primarily through:
accessing data entered on BlueTeam and held in IAPro; and
compiling feedback received from complainants, witnesses or subject officers through the methods listed under Feedback.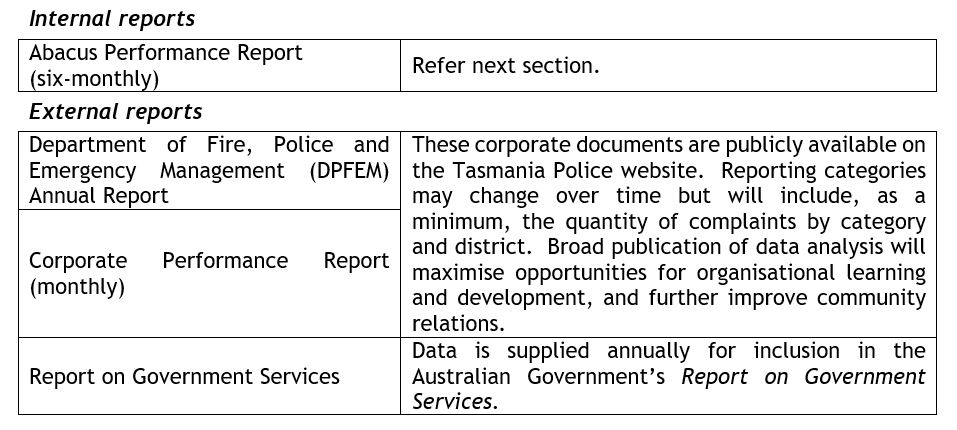 15.6.2. Complainant Surveys
Community confidence in Tasmania Police as a whole is underpinned by confidence in an effective complaints and conduct management system.  Research has shown that a comparatively high number of complaints against police can be indicative of positive community relations and an environment where people have confidence in the system to resolve their issue.  Conversely, a low number of complaints might be indicative of positive community relations.  The challenge is to look beyond the raw data.  Complainant surveys are a method of collecting information to better understand and measure the performance of Tasmania Police in dealing with complaints.
Complainants will be provided an opportunity of completing an online survey available on the Tasmania Police website and comment on their experience of the process (note: not the outcome of their complaint).  It is accepted that not all complainants will be satisfied with the process and the outcome of their complaint.
15.6.3. Member Surveys
Members' engagement with, and support of, Abacus procedures is critical. Members are encouraged to participate in member surveys.
15.6.4. Data Analysis
Consistent with the DPFEM's commitment to continuous improvement, data from IAPro is also collected for analysis to identify trends, anomalies or recurring problems that require specific attention.  Tasmania Police may then address the causes and design and implement appropriate solutions; for example further training on a commonly misunderstood topic, addressing supervision deficiencies, or reallocation of resources.  Trend analysis may also provide more insight into the background of complaints, for example whether there is a tendency for complaints to arise out of certain types of police interactions such as family violence matters or traffic intercepts.
15.7. Abacus Performance Report to Deputy Commissioner
On a six-monthly basis (each March and September) Professional Standards are required to provide an Abacus Performance Report to the Deputy Commissioner.  The collection of purely statistical information on complaint numbers is not adequate to appropriately measure the effectiveness of the system. Therefore, data to be reported may include:
total number and categories of Abacus matters (on hand and year-to-date)
allegation type
trend data on conduct issues
trend data on complaints
statistical data on location and demographics of complainants
statistical data on location and demographics of subject officers (e.g. district, division, rank, age, gender, length of service)
Abacus outcomes at organisational level
CPD (including newly identified types)
Early Identification
performance of districts and Professional Standards in the management of Abacus matters

performance against timeframes
equity of outcomes

random sampling of files for compliance with Abacus procedures
organisational learning
identification of systemic issues
Copies of the Abacus Performance Reports (anonymised as required) are provided to all commanders and inspectors for the resolution of any issues arising from the reports.  Following the circulation of the report the Professional Standards Commander and Education & Training Commander will liaise on additional requirements, if any, for the CPD of members.
15.8. Abacus Review
The Abacus Procedures will be reviewed every three years by Professional Standards.  The review should consider questions such as:
Are the procedures and Tasmania Police Manual (TPM) provisions known and understood by members?
Are the procedures known and understood by members of the public?
Are there any training gaps?
Are members clear about what constitutes an internally raised matter (IRM) (and should be managed under Abacus)?
Are complaints or IRMs being dealt with outside Abacus?
What are the themes of feedback received about Abacus?
What has been achieved through Abacus organisational learning?
Has the quantity of complaints in a particular location or subject area reduced since the implementation of relevant CPD or organisational learning?
How empowered do supervisors / managers feel in recommending Abacus outcomes?
Should Abacus be expanded to encompass all performance management?
Is the IAPro software meeting the needs of Abacus?
Has the auditing process identified problems with the categorisation of matters?
Has the auditing process identified any other problems with Abacus as a system?
15.9. Integrity Commission Audits & Notifications
The Integrity Commission generally undertakes a complete annual audit of hard copy files of
complaints received by Tasmania Police;
serious misconduct by members; and
misconduct and serious misconduct by commissioned officers.
This is an important part of the Integrity Commission's role in ensuring transparency and accountability of Tasmania Police.  The Integrity Commission liaises with Tasmania Police prior to each audit to determine appropriate issues and risks that could be addressed within the audit.  Topics covered in the audit include:
the nature of complaints received;
the way complaints have been dealt with by Tasmania Police; and
assessment of complaint timeframes.
The audit report may contain recommendations for Tasmania Police to improve its systems and processes. The report is tabled in Parliament and is also available at www.integrity.tas.gov.au. Tasmania Police also makes notifications to the Integrity Commission as described under Alternative Complaint Agencies.
15.10. Document Information
15.10.1. General

15.10.2. Revision History

---
Footnotes:
[46] United Nations Office on Drugs and Crime, 'Handbook on Police Accountability, Oversight and Integrity', 2011, p36