Tasmania Police Charity Trust Constable T Bear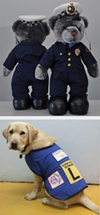 The Tasmania Police Charity Trust is very proud of new Special Honorary 'Constable T Bear', officially launched at the Police Academy on Thursday, 5 August 2010. You may have spotted the photograph, media release and various mail order coupons that have appeared in The Mercury recently with regard to Constable T BearTM.
At the launch, Acting Chair D L Hine advised that proceeds from the sale of Constable T BearTM to the value of $12,000 would be donated to Royal Guide Dogs Tasmania. In this respect, one of the Royal Guide Dog puppies will be wearing their new coat resplendent with the Tasmania Police Charity Trust logo, in recognition of our support. You may be lucky enough to see Dexter the Guide Dog Puppy around town, wearing his coat.
Constable T BearTM, complete with a Tasmania Police uniform and badge, is available for purchase via the Tasmania Police Charity Trust merchandise page at a cost of $55 (plus postage and handling).