Charity Trust brings joy to Phoebe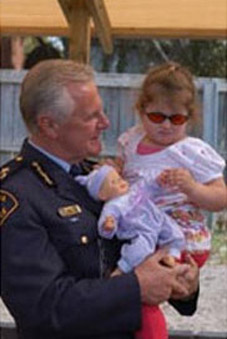 The life of little four-year-old Phoebe Richardson has been made a little brighter, thanks to the Tasmania Police Charity Trust. The Kingston youngster suffers from Alstrom syndrome, a rare and progressive hereditary genetic disorder that causes blindness and hearing loss. Other symptoms, some of which are already suffered by Phoebe, include type 2 diabetes, heart failure, liver disease, urological dysfunction, pulmonary fibrosis and renal failure.
Former Commissioner Richard McCreadie presented Phoebe with a new outdoor play area and toys, courtesy of the Tasmania Police Charity Trust.
"After discussions with Phoebe's mother, Kelly, it was agreed that financial support would not necessarily help to manage Phoebe's condition, but a chance at a better quality of life could be gained with an outdoor, shaded play area," Mr McCreadie said.
"Among the many symptoms of the syndrome suffered by Phoebe is extreme light sensitivity which requires all outside activities to be under cover. Many people have kindly donated their time, effort, and resources to help convert Phoebe's bare back yard into an impressive shaded play area." The former Commissioner wrote to Mr John Clennett of Clennett's Mitre 10 Kingston, who gladly accepted the invitation to assist with the construction of the play area, designed by Designinc.
Mr McCreadie recognised the need for the coordination of a large number of kind-hearted community members and organisations, with the Charity Trust facilitating the construction of the play area. Clennett's Mitre 10 co-ordinated the activities on-site including the levelling of the site, construction of retaining walls and shade structure, and landscaping. Members of Tasmania Police assisted with the construction of the framework and placement of pine bark.
Assistance provided by the following is greatly appreciated: Ms Merlene Walker, Department of Health and Human Services, Mr Paul Jeschke, building surveyor, Ms Verity Coulter, Occupational Therapy Service, Mr Roger Midson, Hanson, Mr Andrew Grimsdale, Designinc, Mr John Clennett, Clennett's Mitre 10, Mr Jamie Brook, Clennett's Mitre 10, Mr Bill Springer, Clennett's Mitre 10, Mr Greg Alomes, Kingborough Council, Mr Brian Stewart, Kingborough Council, Mr Grant Atherton, Johnstone, McGee and Gandy Pty Ltd, and Mr Andrew Beadell, AB Landscaping.
(21 December 2007)