Charity Trust presents gift to Jack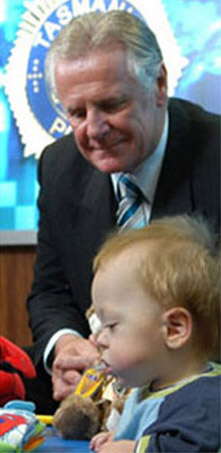 Former Commissioner Richard McCreadie and the Tasmania Police Charity Trust presented the parents of two year-old Bruny Island boy, Jack Moore with a specially designed table to enable Jack to sit and play, and eat his meals.
Two year-old Jack came to the attention of the Tasmania Police Charity Trust through his need to be flown from his home on Bruny Island to the Royal Hobart Hospital by the Westpac Rescue Helicopter not once but on numerous occasions during his life.
Jack was born premature on 12 December 2005. His lungs were not fully developed and the medical view was that he may have some respiratory problems. He suffered from Apnoea. At about 12 months of age he was diagnosed with Achondroplasia – Dwarfism.
The Emergency Services workers who have come to know the family and contributed to Jack's wellbeing, including flight crew, police and paramedics, Tasmanian Ambulance Service, Marine and Rescue Services, Rotor-lift Aviation, Tasmania Air Rescue Trust and Tasmania Police Charity Trust members were invited to attend this very special presentation.
(8 February 2008)