Kids Kick Start Targa 2008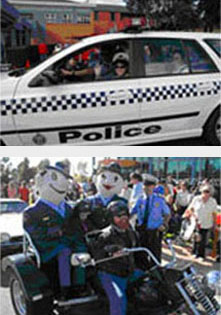 The Tasmania Police Charity Trust was privileged to be involved with the 'Kids Kick Start Targa' drive at the Country Club Casino on Sunday, 13 April 2008.
'Kids Kick Start Targa' is an initiative of Mr Alan Stevenson who suffered spinal injuries in a racing quad bike accident in 2001. Alan and his co-driver are the only all-disabled team that competes in Targa. Mr Stevenson gained the support of other Targa participants to drive 45 disadvantaged children on a circuit of the Country Club Casino, along Country Club Avenue and return in race-prepared Targa vehicles. The children were also given the chance to ride in marked police vehicles. Senior Sergeant John Parker said "To see their huge smiling faces as they travelled in the Targa and police vehicles was a very satisfying and humbling experience. They just loved the sirens and lights".
In supporting this event the Tasmania Police Charity Trust presented a cheque in the amount of $500 to the Australian Quadriplegic Association (AQA) and handed out show bags to all children who were participating in the event. Constables Kate and Sam (Junior Constables Ella Robson and Lucy Hamilton) were also a huge hit with the children.
Congratulations to Sergeant John Shea and members of the Northern PORT who
assisted in coordinating this wonderful event.
(13 April 2008)