Red Tricycle for Luke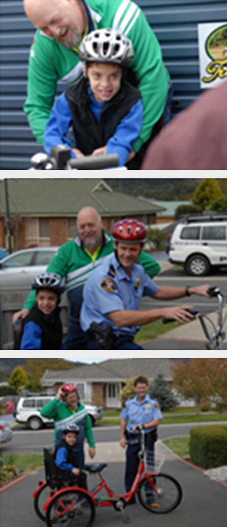 Luke Spencer is 11 years old and suffers from Lennox-Gastaut Syndrome, a form of Epilepsy which affects young children. Due to his debilitating disease, Luke is now unable to walk or talk, but despite this, he still loves to enjoy life to the best of his ability.
One of Luke's favourite activities is bike riding with his family. He previously was able to sit in a child's seat on the back of a bicycle, however, inevitably he outgrew the seats capacity.
In June 2009, the Tasmania Police Charity Trust, in conjunction with the Kings Meadows Lions Club, purchased a three-wheeled tricycle specifically built to accommodate Luke.
Kevin Smith of Kevs Tricycle Hire & Sales at Prospect manufactures bikes for disabled children. Kevin was pleased to support this worthwhile donation and painstakingly designed the red motorised three-wheeled tricycle.
The tricycle was presented to Luke and his family on Friday, 9 October 2009 by John Parker (Tasmania Police Charity Trust) and Darrell Atkinson (Kings Meadows Lions Club). Luke's family was very appreciative of the kind donation made by all parties involved.
The Tasmania Police Charity Trust is delighted to be able to assist children with special needs.
(9 October 2009)