Special Olympics Quiz Night 2009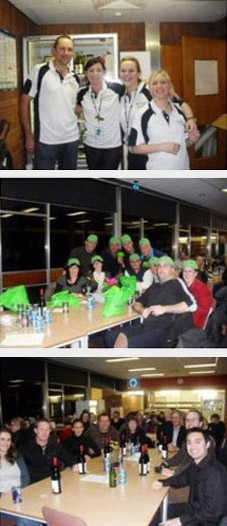 On Thursday 25 June 2009 the Tasmania Police Charity Trust held its third Quiz Night. It was held at the Police Academy, Rokeby to raise funds for Special Olympics (SO) Tasmania.
SO is a not-for-profit organisation that provides sporting opportunities and competition for those members of our community who suffer from an intellectual disability. At present SO has about 150 registered athletes in this State and provides opportunities in a number of different sports including basketball, swimming, softball, ten pin bowling, gymnastics and golf to name just a few.
SO is always in need of support, both financially and in the way of coaches or support staff. Tasmania Police has enjoyed a long standing relationship over a number of years with SO.
Quiz Night No. 3 experienced the largest attendance of any previous Charity Trust quiz nights, with over one hundred and sixty (160) people attending and having a terrific night. The generous support of the Commander, Human Resources and Business Manager, Academy enabled the night to be held at the Police Academy.
The team 'War on Error' were the winners of the evening, with team WKD finishing second.
Initial calculations indicate that the night raised over $3,300 for SO.
The event organiser, Inspector Laurie Huxley, would like to thank all those who attended the night, and in particular wanted to express his appreciation for the support and assistance provided by Ms Jean Henley, Sergeant David Sinclair, Inspectors Richard Cowling and Grant Twining, Constable Michelle Sly, the present recruit course at the Academy, and members of his own family who also assisted on the night.
(25 June 2009)