Assistance to Samuel King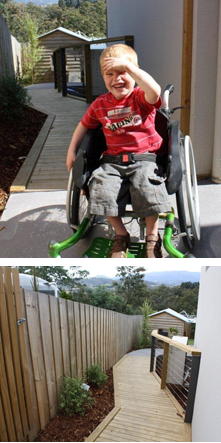 The Tasmania Police Charity Trust had great pleasure in assisting four year old Samuel who needed to gain access to his back garden play area in his wheelchair.  He is all smiles now that he can enjoy wheelchair access to the play area by travelling over a newly installed deck and pathway (completed by professional landscaper Damian Wickham of Landscape The Lot).
Samuel was born with severe Haemophilia A and suffers from damage to his spine which has left him a paraplegic.  Due to Samuel's mobility issues, there was a need to carry Samuel to the back garden to play with his family and friends.  The Tasmania Police Charity Trust recognised that the King family needed assistance, and that Samuel would appreciate having independent access to the play area.
The Charity Trust consequently agreed to organise for a path to be built which would lead from the front of the house, down to the back garden to meet with an existing patio.  Due to the competing levels and complexities associated with the site, the Charity Trust nominated a professional landscaper to  complete the project.  Damian Wickham of Landscape The Lot was engaged to complete the landscaping and all agree that he has done a superb job.  Damian enjoyed working at the site and developed a lovely rapport with Samuel along the way.  The Tasmania Police Charity Trust paid for installation of a completely new timber decked pathway.  The attached photos of the completed works are testament to Damian's fine work.
Samuel's parents, David and Helen have advised that Sam is now able to access the back garden using his wheelchair and has learnt to use his brakes to descend safely.  He is pictured here enjoying his new found independence.  The landscaping project was completed just prior to Christmas, and will enable the King family to enjoy family time in their back garden over summer and for many years to come.  Samuel is a beautiful little boy and we wish him much happiness in his new back garden.
(December 2010)