Down Syndrome Buddy Walk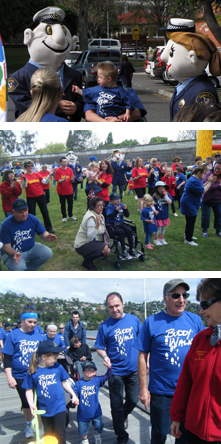 The Tasmania Police Charity Trust were delighted to be invited by Down Syndrome Tasmania to join them on their inaugural Buddy Walk on Sunday, 24 October 2010 at Royal Park in Launceston.  The event was organised to promote awareness of Down syndrome in the community, bring people together, and assist in raising funds for education, research and advocacy programs.
The Charity Trust assisted by donating $500 to this event, and had great pleasure in participating on the day. Special Constables Sam and Kate, the Tasmania Police mascots, were a highlight on the day, as was the Tasmania Police Charity Trust mascot dog Teddy. This inaugural Buddy Walk was a tremendous success with around 300 Buddy Walkers following the Launceston City Band, walking a route around the boardwalk of Seaport and back to Royal Park.  The day was filled with laughs, camaraderie and dance sessions.  The day highlighted the support that is available to families and created a day full of fun for all participants.
The Charity Trust look forward to participating in the Buddy Walk in 2011.
(24 October 2010)