Kids Kick Start Targa 2010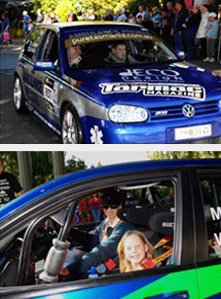 The Tasmania Police Charity Trust was again privileged to be involved with the 'Kids Kick Start Targa' drive at the Country Club Casino on Sunday, 25 April 2010.
'Kids Kick Start Targa' this year assisted 70 disadvantaged children in enjoying a great day out at the Country Club Casino, where they were driven in Targa race-prepared vehicles and in marked police cars.
Commander Glenn Frame and Sergeant John Parker attended on the day. It was clear that all the children had a superb time, meeting the Targa crews and being driven around the Country Club circuit. They also were able to collect Tasmania Police Charity Trust showbags on the day that were crammed with quality goodies. The showbags were a huge hit with the children and feature Cadbury chocolates, colouring-in pencils and scrapbook, Westpac piggy-bank plus a Charity Trust cap.
In supporting this event the Tasmania Police Charity Trust presented a cheque in the amount of $500 to St Michael's School in Launceston.
The Event was a resounding success and is an Annual Tasmania Police Charity Trust event.
Congratulations to Sergeant John Parker for being so committed to organising this
event and ensuring its success.
(25 April 2010)