Royal Guide Dogs Tasmania donation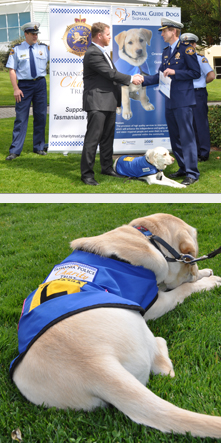 The Tasmania Police Charity Trust (TPCT) is very proud of new Special Honorary 'Constable T Bear', officially launched at the Police Academy on Thursday, 5 August 2010.
Constable T BearTM is proving popular with successful sales resulting in a considerable donation of $12,000 to Royal Guide Dogs Tasmania (RGDT) on 28 September 2010, (see images of the cheque handover between TPCT Chair, Commissioner Darren Hine and RGDT Chief Executive Officer, Mr Dan English).
Following the TPCT's donation, RGDT are now able to purchase an additional four guide dog puppies from a registered interstate guide dog breeder. The puppies will wear a Tasmania Police Charity Trust logo on their jacket, in recognition of support provided. (Trainee guide dog Dexter, pictured on the right, is wearing one of the new jackets). For photos and information regarding the gorgeous guide dog puppies purchased by utilising the Tasmania Police Charity Trust donation, click here.
Constable T BearTM, complete with a Tasmania Police uniform and badge, is available for purchase, at a cost of $55 (plus postage and handling), via the Tasmania Police Charity Trust merchandise page or by contacting the TPCT Secretariat on (03) 6173 2602.
(September 2010)