Assistance to Ella Munnings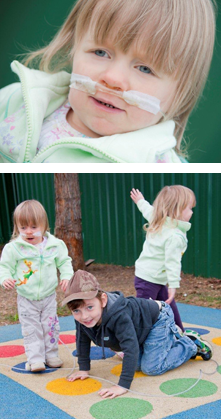 Ella was 2 years old when she came to the attention of the Tasmania Police Charity Trust.  Ella and her twin sister Charlotte were born three months premature at just 26 weeks.  Charlotte is now a healthy 2 year old but Ella suffers from chronic lung disease and requires a constant flow of oxygen to keep her alive.  Just catching a cold is a life-threatening and frightening experience for her and the whole family.  This means that Ella, Charlotte and big brother Jacob, need to all stay at home – they cant go out and play with other children, just in case they catch a cold.
A family friend, Helen Burns, decided that something needed to be done to make life just that little bit easier for Ella and her family.  So Helen was the catalyst behind a massive backyard makeover, and it was Helen that brought Ella to our attention.  As the children were unable to play at a public playground and were pretty much house-bound, the Tasmania Police Charity Trust Board decided that the best way to assist was to provide a play area.  In this regard, a Playtas rubbersoftfall twister panel was envisaged to be the most suitable.  The panel was installed in March 2011 and as you can see by the photo attached, it is lovely to see Ella out of the house, and all the children having fun playing together.
Meanwhile Helen Burns is in the midst of coordinating the final touches to the backyard project.  Once the project is finalised all the contributors and helpers will get together to celebrate it's completion.   The Tasmania Police Charity Trust wish Ella, Charlotte and Jacob many happy hours of play in their new backyard.  In the meantime Ella is thriving and it is hoped that within a year she may be able to breathe by herself.  The Tasmania Police Charity Trust wish Ella well, as she continues to get stronger and healthier.
(June 2011)
(Photographs courtesy of professional photographer Veronica Youd).