Down Syndrome Buddy Walk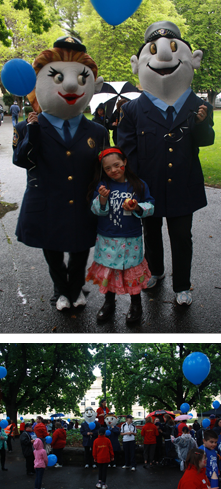 The Tasmania Police Charity Trust had pleasure in again supporting Down Syndrome Tasmania with their second Annual Buddy Walk, which took place in Parliament House Gardens, Hobart.  The weather wasn't kind on the day, but nonetheless, approximately 150 people including supporters, people with Down Syndrome and their invited 'buddies' – friends, family and teachers turned out for the event.
Joining in the festivities were Special Constables 'Sam' and 'Kate', who were a big hit with all who attended.  'Sam' and 'Kate' are pictured here with Raphaela Davidson.
The Tasmania Police Charity Trust was pleased to extend a donation of $500 to Down Syndrome Tasmania.  The Annual Charity Trust Bike Ride in 2012 has also nominated Down Syndrome Tasmania as a joint beneficiary of the Bike Ride.
(29 October 2011)