Special Olympics Quiz Night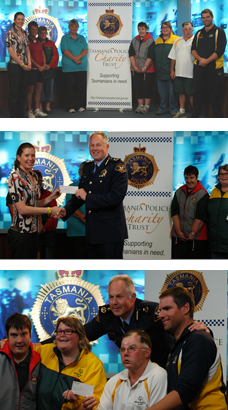 The Annual Quiz Night was once again strongly supported with 110 police officers, friends and family gathering at the Police Academy for a fun night, all in support of Special Olympics Tasmania.  The evening was a great success – the weird and wonderful team names caused much hilarity, then it was down to business, to see who were the best Master Minds in the room.  It turns out that the team from Forensic Science Services Tasmania were the stars for the evening, winning the Grand Prize, being 1 night's accommodation at the Country Club, kindly sponsored by the Federal Group.  The Tasmania Police Charity Trust is most appreciative to the Federal Group for once again supporting this event.
Through entry fees and a raffle, the event raised $2,500 – a great result.  The cheque for $2,500 was formally handed over by Deputy Commissioner Scott Tilyard to Alison Mosely, State Manager of Special Olympics Tasmania, on 28 November 2011.  Also in attendance at the cheque presentation were the Special Olympics softball team.  They are a dedicated team competing within the Southern Tasmania Softball Association league, training hard every Thursday evening and playing hard every Saturday.
The Trust has now extended nearly $10,000 in the past two years, by conducting these annual Quiz Nights and through other supported events.  The Trust recognises the excellent work of Special Olympics Tasmania in providing year-round sports training and competition in a variety of sports for children and adults with an intellectual disability.  The Trust looks forward to continuing to support Special Olympics Tasmania in the future.
(September 2011)