Annual Special Olympics Quiz Night
On Sunday, 11 November 2012, Deputy Commissioner Scott Tilyard had great pleasure in presenting a cheque for $2,500 to Special Olympics Tasmania, being funds raised from the Annual Tasmania Police Charity Trust Special Olympics Quiz Night.  The cheque presentation occurred during the Closing Ceremony of the State Games, where 50 athletes had come together to participate in soccer, swimming and softball competitions.  Funds donated will continue to assist people with an intellectual disability; to provide an opportunity for them to participate in sport.   In presenting the cheque, Deputy Commissioner Tilyard advised that sport was a great way to improve confidence and skills and promoted a sense of community and inclusion.
---
Over 130 avid quizzees crammed the dining room at the Tasmania Police Academy on 1 August 2012 to enjoy another fun-filled yet competitive night of tricky questions and trivia at the Annual Tasmania Police Charity Trust Quiz Night.
The lead-up to the event created much good-humoured banter, interspersed with the odd strategist who demanded their team study hard for the event – alas, to no avail as it turns out.  Upon arrival at the Academy, the strategists were still hard at work, creating much amusement and friendly rivalry between the tables.   Once again eminent MC Inspector David Plumpton entertained everyone for the evening, contributing to the laughs and odd spot of mayhem during the evening.
Finally, the strongest strategist amusingly was well defeated by the Team 'Angry Birds' who was represented by our Federal colleagues and Commander Colin Little.  The team from Ambulance Tasmania, 'Intelligentsia', did well again, coming 2nd on the night.  Sergeant Mick Ertl of the 'Wantok' Team, was the lucky winner of the 1st prize in the raffle, kindly sponsored by the Federal Group; being 1 night's accommodation for 2 people at the Country Club.
This was the 6th annual event held in support of Special Olympics Tasmania, and as usual the evening was a great success.  The event's popularity combined with the generosity of attendees, all contributed to a great fundraising effort – $2,500 in total.  The Trust has now extended $12,405 to Special Olympics Tasmania in the past 3 years, by conducting this annual event and through other supported events.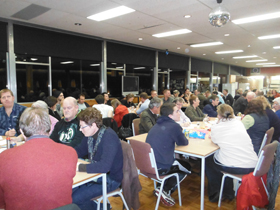 The event organiser, Inspector Laurie Huxley would like to thank all of those who attended on the night, and wishes to express his appreciation for the camaraderie shown during the evening, and everyone's generosity.  Members of his own family assisted during the evening, and other notes of appreciation need to be extended to retired Sergeant Dave Sinclair (Question Master), Ms Jean Henley, Inspector Grant Twining, Constable Olivia Graney, and of course our most entertaining and flamboyant MC Inspector David Plumpton.  Appreciation is also extended to the staff of the Tasmania Police Academy, in particular to Mr Steve Haines, for their hospitality.
The Trust looks forward to continuing to support Special Olympics Tasmania at future events.
(August 2012)