Assistance to Trystan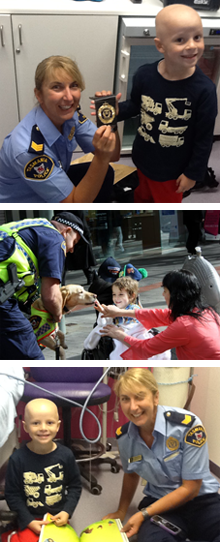 The Tasmania Police Charity Trust (the Trust) met four-year old Trystan in late 2012, while he was a patient at the Royal Hobart Hospital, undergoing chemotherapy treatment for leukaemia.
Whilst receiving medical treatment, Trystan's mum (Jodi) noticed that seeing police come and go from the Hobart City Police Station provided a positive distraction for Trystan from his hospital bed and the treatment he was receiving. Because of this, Jodi organised for Trystan to meet numerous police officers.
In December 2012, after hearing about Trystan's story, the Trust (through Board Member, Sergeant Fiona Smith) organised transport for Trystan's family from Ulverstone to Hobart, to allow the family to spend Christmas together while Trystan was receiving treatment in Hobart. Without this assistance, the family would have spent Christmas apart.
Furthermore, Sergeant Smith facilitated the purchase of a special three-wheeled pram for Trystan, which has assisted both Trystan and Jodi greatly.
The Trust very much enjoyed meeting Trystan and Jodi on many occasions, and extends their best wishes to Trystan and his family. It was a delight to see how much Trystan loved police officers, and what a happy and fun little boy he is, considering his diagnosis and treatment.
(December 2012)