Annual Special Olympics Quiz Night
The Tasmania Police Charity Trust held its seventh Annual Special Olympics Quiz Night on Wednesday, 31 July 2013. Over 150 avid quizees, comprising police members and friends, again battled it out for the award of Quiz Masters Extraordinaire. It was the most successful event to date, raising a total of $5,000. ($3,443 on the night raised through team entries, a raffle and a $200 donation from the Bendigo Bank, plus a further $1,557 later donated by the Tasmania Police Charity Trust).
Commissioner Darren Hine and Inspector Laurie Huxley (the Coordinator of the event) are pictured here presenting the $5,000 cheque on 11 September 2013, to Special Olympics Tasmania (SOTAS) Athlete, Tom Brown, and SOTAS State Treasurer, Chris Ryan-Peek. The cheque presentation was held at the Community Sports Link Ribbon Day at the Moonah Sports Centre, where 150 students who have an intellectual disability were attending one of the major sports events on the Special Olympics calendar. The funds handed over from the Quiz Night will help maintain this type of sporting event; providing children and adults with year-round sports training and competition.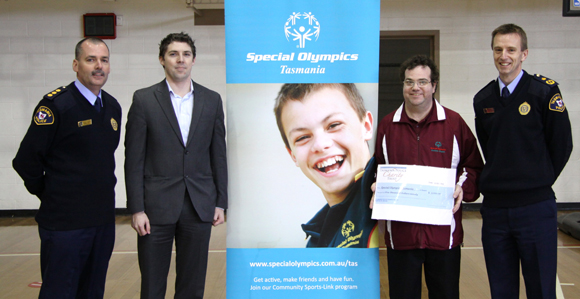 Members of Tasmania Police look forward to the Quiz Night each year, enjoying the camaraderie and the laughs, whilst raising funds for a great Tasmanian cause. Special thanks goes to Country Club Tasmania for donating the first prize, and to Inspector David Plumpton who again performed MC duties with great style and flair, and to the many people and small businesses behind the scenes, who make this event such a success.
(July 2013)