Assistance to Gary Munday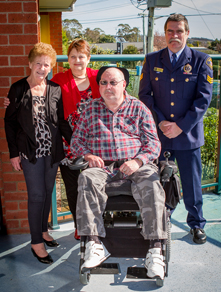 In October 2013, the Tasmania Police Charity Trust was pleased to be able to assist Mr Gary Munday, by contributing $2,000 towards a new motorised wheelchair.
The Multiple Sclerosis Society formally approached the Trust on behalf of Mr Munday, requesting assistance to purchase the new wheelchair. Mr Munday is 64 years of age, and has been living with multiple sclerosis for many years which has resulted in his loss of mobility.  Mr Munday lives at a regional nursing home and his wife visits him daily. Mr Mundy's old wheelchair needed to be pushed and was constantly breaking down.
An Occupational Therapist recommended that a new motorised wheelchair would greatly improve both Mr Munday's sense of wellbeing, and would also positively impact upon his wife, as she would no longer need to push the chair. The  Multiple Sclerosis Society facilitated donations from various organisations, and the Tasmania Police Charity Trust was pleased to be able to contribute to an item which would have such a positive impact.
This has therefore been an example of a community collaborative effort to assist a gentleman who lives on a pension and had no means of affording the new chair (valued at over $11,000).  This also highlights the fact that the Tasmania Police Charity Trust extends assistance to a diverse range of individuals within the community – assisting both the young and older members of our community.
The new motorised wheelchair has greatly increased Mr Munday's mobility to access the community and move around his nursing home; providing new found independence.
(October 2013)
(Photographed: Mrs Shirley Munday, Ms Merlene Walker of the Multiple Sclerosis Society, Mr Gary Munday seated in his new motorised chair, and Sergeant Gerry King).