Assistance to Libby Wickham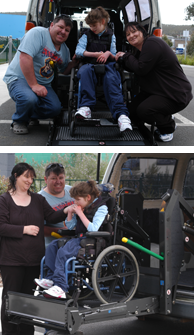 The Tasmania Police Charity Trust recently had pleasure in assisting Libby Wickham by donating $11,500 for an urgently required wheelchair hoist. This donation represents the largest donation extended by the Trust to an individual. The majority of the funds donated to Libby were raised through payroll contributions from employees of Tasmania Police.
10 year old Libby suffers from cerebral palsy, spastic quadriplegia and other health complications including severe scoliosis. Until recently Libby had been excluded from having urgent surgery with regard to her scoliosis, as she needed to be fitted to a new tilt-in-space wheelchair. Unfortunately a new wheelchair could not be attained until a wheelchair hoist had been fitted inside the family van.
The Tasmania Police Charity Trust Board had pleasure in attending to Libby's urgent need; to make the wheelchair hoist a reality.
The Board extend their best wishes to Libby and her family, and sincerely hope the hoist will greatly promote Libby's wellbeing by facilitating her candidacy for urgent surgery with an orthopaedic surgeon in Melbourne.
(August 2013)