Assistance to Macy Menzie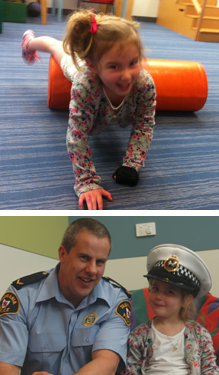 Macy is a bright and lively four year old, you might say just like any other.
However, on 28 June 2012, Macy was diagnosed with cancer.
An operation to remove part of the tumour in Macy's brain has left her with hemiplegia/hemiparesis which has affected the muscle tone on the left side of her body.  Her left arm is affected and she cannot open her fingers, resulting in her fingers spending most of the time in a closed fist.
In October 2013, the Tasmania Police Charity Trust (TPCT) funded $1,375 for a special garment to be purchased and fitted for Macy, to assist Macy in keeping her hand open and her elbow straight.
Recently, Constable Leigh Devine (TPCT Board Member) met up with Macy and her Mum, Suzannah, at an Occupational Therapist appointment at St Giles.  Macy delighted Constable Devine and photographer Emma, and she is pictured here sharing her cheeky personality.
(October 2013)