Charity Golf Day donation to Whitelion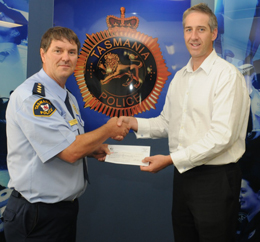 The Tasmania Police Charity Trust and Whitelion partnered for the Annual Charity Golf Day held in November 2013.
Whitelion was chosen as a partner due to the work they do supporting homeless and youths at risk, specifically in the Launceston area.
The Annual Golf Day was another outstanding success with the support of our members and the event major sponsors LAFM and Country Club Casino. Over $8,000 was raised to be disseminated by the Charity Trust.
As nominated beneficiary and partner of the event, a cheque for $4,100 was presented to Whitelion in April 2014. The balance of the funds raised are pooled along with members donations, to support others within our communities who could do with some additional assistance.
(April 2014)
Photographed (left to right): Inspector Michael Johnston presents cheque to Lyndon Stevenson, State Manager, Whitelion.