Kids Kick Start Targa 2014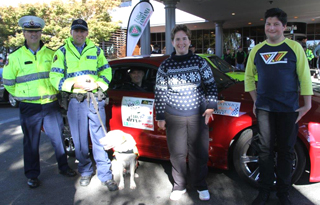 Fun and excitement were certainly the order of the day, when members of the Tasmania Police Charity Trust and police officers attended the annual Kids Kick Start Targa event, on Sunday 4 May 2014.
The event provides disadvantaged and disabled children with the opportunity to travel in Targa-prepared race-ready vehicles, hot rods and marked police cars; on a Country Club Tasmania circuit.
This was the eighth year that the Trust has been associated with the event and it's an event we're proud to be involved with.
This year Inspector Michael Johnston, Constable Jareth Anderson and Police Dog Yuli attended.
The Targa participants volunteer their time and vehicles to be a part of this event with the kids and young people being able to climb inside the vehicles and meeting the race drivers.
The event goes a long way towards forging positive relationships and understanding between police, the kids and the Targa participants, with everyone gaining a new perspective.
The Trust extends their appreciation to everyone involved in the event, including volunteers, police officers, the Country Club Casino and Alan Stevenson for organising the event.
(4 May 2014)
Photographed (left to right): Inspector Michael Johnston, Constable Jareth Anderson, Police Dog Yuli, Driver Alan Stevenson, Katherine Symons, Hamish Mackay.