Tasmania Police helps St Giles children free their voices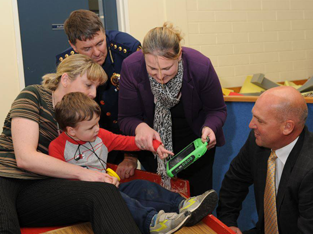 An electronic device to help children free their voices will be purchased with funds donated by the Tasmania Police Charity Trust (TPCT).
The Trust's $7,000 donation to buy the device was presented to St Giles on 23 May 2014.
The device, called a Liberator Vantage Lite, allows children who are unable to verbally communicate to express themselves through an 'electronic voice'.
Tobias and Jessica Rode with their son Noah (3), of Launceston, attended St Giles to see the device.
Inspector Michael Johnston from the TPCT said:
"This device will help make a real difference to the lives of children who can't verbally communicate."
"It will not only help the children, it will also help their families."
---
A year ago the speech pathology and occupational therapy teams at St Giles became the only therapists in Australia to be accredited to implement Language Acquisition through Motor Planning – LAMP.
A $7,000 donation by the Trust will allow St Giles to purchase a speech device that will be loaned to families and carers to trial LAMP with their non-verbal child.
The goal of LAMP is to give children or adults who are non-verbal due to developmental delays or a disability like Autism, a method of expressing themselves.
LAMP uses electronic communication devices (i.e. Vantage Lite or Liberator) with regular neurological motor patterns – pointing or eye direction – to achieve language connections.
When combined with a readiness to learn, the technology-assisted language connections extend to understanding meaning and common words and ideas.
Driving the implementation of LAMP at St Giles in Launceston is senior speech pathologist Greer Maine. The LAMP program is also available from St Giles in Hobart.
"The request for the device was initiated by a parent accessing a Vantage Lite device for a trial of LAMP in Hobart, who suggested that having a pool of devices for longer term loan would enable parents to trial the devices for an adequate period of time, and maintain access to a voice while applying for an individual device for their child,'' Ms Maine said.
---
This donation underpins a commitment from the Tasmania Police Charity Trust to assist St Giles on an annual basis.
(23 May 2014)
---
Pictured (L-to-R): Jessica Rode; Noah (3); Inspector Michael Johnston; St Giles Speech Pathologist Greer Maine; Senator Stephen Parry.