Kids Kickstart Targa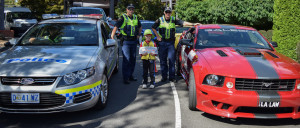 In March 2016 the Annual Kids Kickstart Targa was held in Launceston at the Country Club of Tasmania.  This year marked the 10th Anniversary for the event and with the help from our exceptional volunteers, was the biggest and best year yet!
Kids Kickstart Targa is an opportunity for disadvantaged kids to ride in Hotrods, Targa and Motor Sport cars around a real racing circuit, with  Tasmania Police supporting the event by providing 'marked' police cars and volunteer Police Officers as drivers.   This event goes a long way to strengthening the bond between Tasmania Police and the wider community, with the kids getting a real thrill out of seeing the lights and sirens in action and engaging with the officers in a positive way.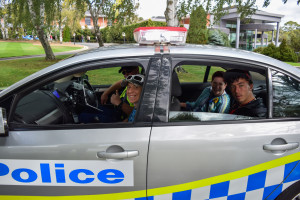 The Country Club of Tasmania has always been generous in providing an ideal venue for the drive and we are very grateful for their ongoing support. The Tasmania Police Charity Trust also wishes to thank all those volunteers who made the day so special for the kids, particularly Mr  Alan Stevenson who dedicates so much of his time to organising this event every year.  The Tasmania Police Charity Trust looks forward to supporting the event again in 2017!