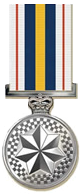 Tasmania Police are now receiving applications for the National Police Service Medal (NPSM) from separated members who have previously served with Tasmania Police who believe that they satisfy the requirements for the NPSM. Once Tasmania Police receive applications for the NPSM, eligibility criteria, including probity checks, will be conducted, however, the gazetting of the award will be reliant on Government House Australia. Applications must be submitted using the NPSM online application form.
The NPSM is awarded for 15 years of ethical and diligent contribution to policing by police officers that performed sworn service on or after 14 February 1975 [there are no clasps issued].
Members who are no longer serving who believe they are eligible for the NPSM, can make application to the relevant police service (last policing agency in which they served) for awarding of the NPSM. Once the Commissioner of Police makes application to Honours and Awards, Government House, for an approved retired or separated member to be awarded the medal, and this is gazetted as being approved by Government House, the recipient will be entitled to wear the medal.
Further information on the medal can be found on the It's An Honour (Australian Government) website.