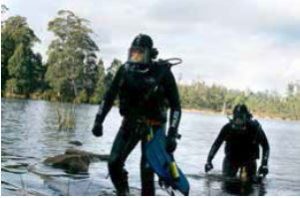 Constable Fiona Russell has always loved being around the water, so joining Tasmania Police's Dive Squad seemed like a natural progression.
Fiona joined Tasmania Police in 1993 after seeing recruits running around the Academy on her regular journey to Clifton Beach Surf Life Saving Club.
Fiona worked in the Drug Squad and Surveillance before joining Marine Services in 2005. She completed the Police Dive course later that year, becoming the first woman to join the Police Dive Squad.
"I'd always been interested in water sports like swimming, water polo, surf lifesaving and scuba diving, so marine policing and dive squad were natural career progressions for me," she said.
"It's not for everyone – we often work in water with low visibility and, because it's Tassie, the water is very cold. We do a lot of work in dams, looking for either bodies, stolen items or weapons.
"The upside of the Dive Squad was that you get to spend a lot of time working in a small team. The camaraderie is one of the things I miss about it now that I have moved on from Marine Services in Hobart.
"If you have an interest in the water and are confident and feel comfortable in and around it, then you shouldn't shy away from trying out for the Dive Squad."
Fiona says she didn't feel like she needed to overcome any barriers to join the Dive Squad.
"I was fully accepted by my then Sergeant Paul Steane and everyone I worked for and alongside treated me as an equal," she said.
The disappearance of Burnie woman Helen Munnings in 2008 was one of the biggest jobs Fiona has worked on.
"We spent a lot of hours searching for evidence related to her disappearance. It's very difficult for everyone involved when we are unable to help solve this case."
And while Fiona misses being a current member of the Dive Squad since moving to King Island in 2013, she is enjoying her new post alongside her husband Sergeant Steve Shaw.
Above: Constable Fiona Russell diving at Lake Kara as part of the Helen Munnings investigation (courtesy of The Examiner Newspaper).