Commissioner of Police, Donna Adams APM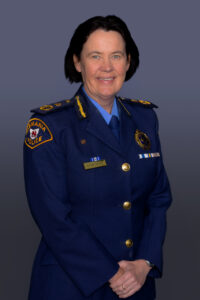 Commencing on 11 October as Tasmania's 15th Commissioner of Police and Secretary of the Department of Police, Fire and Emergency Management, Donna Adams is the state's first female Commissioner of Police in the 125-year history of the service.
Already the highest ranked woman in the history of Tasmania Police, Commissioner Adams' appointment marked a new milestone for police.
With a career trajectory that has seen her recognised with a number of awards and commendations, Commissioner Adams has received acknowledgement for distinguished service including a Commissioner's Commendation for service at Port Arthur in 1996, an Australian Police Medal for Distinguished Service, a Tasmania Police Service Medal for diligent and ethical service, and being recognised by the Australasian Council of Women in Policing as an outstanding investigator.
Growing up in Tasmania and Victoria, Commissioner Adams joined Tasmania Police in 1987, aged 19.
"When I joined Tasmania Police straight out of school, I certainly didn't think I would one day be Commissioner of Police, let alone as the first female Commissioner in Tasmania Police history – some 105 years after women were first allowed to join the service."
"My career aspiration as a 19-year-old was simply to join the drug squad – but, as it happens, I never actually got there!"
Embracing opportunities and roles across a diverse range of areas, Commissioner Adams has worked in frontline policing, criminal investigations, and training and education, and was promoted to the rank of Sergeant in 1998, and Inspector in 2004.
In 2009, she became the first female promoted to the rank of Commander, and her skills as an investigator, leader and innovator saw her achieve the rank of Deputy Commissioner in July 2021 – a higher level than any woman before her.
As she has risen through the ranks, Commissioner Adams has been a mentor and supporter of both sworn and unsworn women in Tasmania Police and across Government, encouraging them to seek out opportunities for professional development, promotion and to demonstrate leadership.
Ms Adams' strategic vision was behind her being named as 2014 Telstra Tasmania Business Woman of the Year for her work which saw Tasmania Police become the first police organisation to roll out mobile devices to the frontline.
As a passionate Tasmanian, Commissioner Adams is committed to keeping Tasmanians safe.
With a Masters of Policing and 35-years' experience in policing, she is well placed to provide exemplary leadership and dedication in delivering high quality policing and emergency services to the people of Tasmania with the highest levels of professionalism, integrity and without bias.
As 15th Commissioner and Secretary of DPFEM, Ms Adams builds on the legacy of previous Commissioner Darren Hine, and continues to pursue positive change and work collaboratively with the community, because public safety cannot be achieved by emergency responders on their own.